International food scholars participate in the FQS conference
Time: 2018-09-27
Author :
From :Zhejiang University Press
The International Conference of Food Quality and Safety & The 4th Fruit Quality Biology, sponsored by Zhejiang University Press and Oxford University Press, was held at Zhejiang University in Hangzhou, Zhejiang province, on April 19–21.
The conference, held by Zhejiang University Press' journal of Food Quality and Safety (FQS), aims to provide an international platform to highlight emerging science and technology in the agro-food field; update research progress in food quality and safety, food nutrition and human health; and stimulate and promote academic exchanges between scientists around the world.
More than 200 attendees, including the editorial board members of the brand new open access journal FQS, from countries and regions across the Chinese mainland, Hong Kong, US, UK, EU, New Zealand, Canada, Singapore and Thailand, attended the conference.
The opening presentation was given by Kunsong Chen, editor-in-chief of FQS and dean of the Sci-Tech Academy of Zhejiang University, who briefly introduced the research of Zhejiang University. "We hope to build a world-class, comprehensive, innovative research university," he said.
Mondher Bouzayen, a member of the European Academy of Sciences and also editor-in-chief of FQS, introduced the journal to the participants. He said that it was hard in the beginning to launch the journal, but he had confidence and would work hard to make it a success.
Four keynote presentations were given by Ian Ferguson, Yujin Hao, Mansel W. Griffiths and Shuo Wang. Thirty presenters shared their reports in two forums focusing on fruit quality biology and food science and technology. The salutatory was delivered by Yachun Yuan, the editor-in-chief of Zhejiang University Press.
FQS, co-published by Oxford University Press and Zhejiang University Press, is founded and supported by Zhejiang University. FQS launched its first issue in March 2017 and aims to provide the most up-to-date and high-quality information on areas including food materials, food chemistry, food microbiology and safety, and food engineering and nutritional value. FQS has successfully made it into the Project for Enhancing International Impact of China STM Journals.
With the full support of Zhejiang University, Zhejiang University Press is preparing a series of high-quality international journals and will publish them in the coming years, said Yachun Yuan in the welcoming speech of the conference.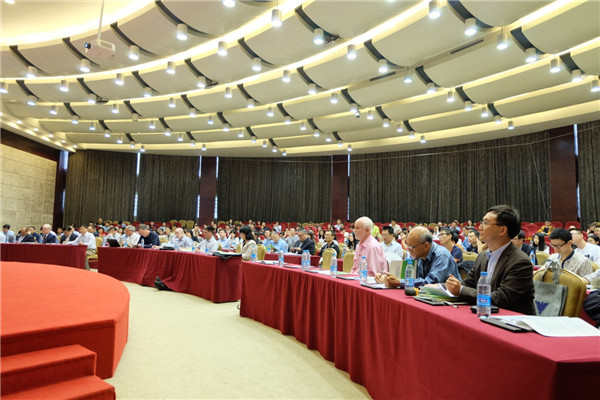 The International Conference of Food Quality and Safety and The 4th Fruit Quality Biology is held at Zhejiang University in Hangzhou, Zhejiang province. [Photo provided by Zhejiang University Press]