Zhejiang University Press launches 12 books celebrating school's 120th birthday
Time: 2023-01-17
Author :
From :Zhejiang University Press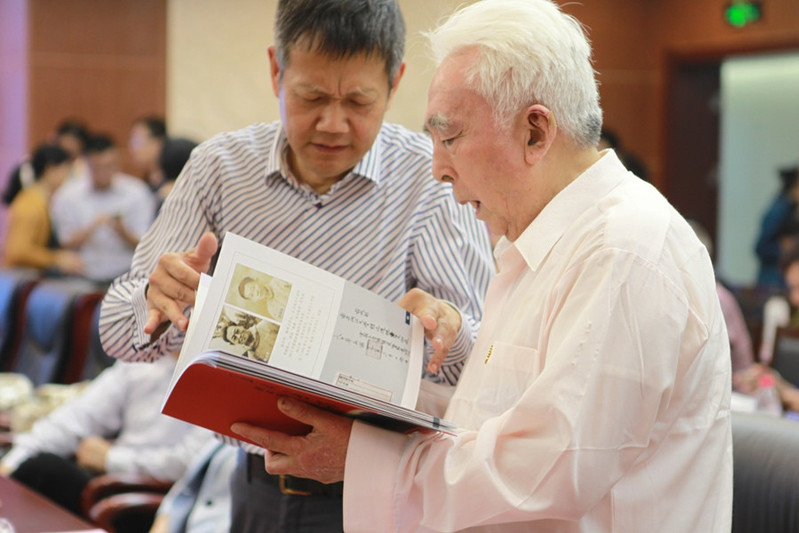 Zhejiang University alumni read one of the books during the book launch.[Photo/Zhejiang University Press]
Zhejiang University Press held a launch ceremony to celebrate the publication of 12 new books, including the eight-volume Seeking Truth:The 120th Anniversary Collection of Zhejiang University, to mark Zhejiang University's 120th birthday on May 20.
The books, penned and edited by professors, staff members and students of Zhejiang University, offer a comprehensive look at the school's history, from its inception during some of the most tumultuous years in Chinese history to its latest drive to become a world-class research center.
Scientists and engineers are the creators of the world. However, people who are engaged in writing, arts and music are the navigators of the age, said Zhang Ze, a member of the Chinese Academy of Sciences who was also part of the editorial board for the Seeking Truth series, at the ceremony.
Zhou Guping, deputy Party secretary of Zhejiang University, thanked the writers and editors who devoted themselves to collecting, preparing and editing raw materials about the university for the series.
Nowadays people are bombarded by the hustle and bustle of the internet age, and a book is like an oasis in an otherwise hectic life, Zhou said. These books not only help preserve the long history of Zhejiang University since its birth in 1897, but present its diverse culture and inspirational stories through rare historical documents, vivid pictures and news reports.
One of the books, Architecture in Zhejiang University, lays out in a beautiful way the architecture in Zhejiang University both visually and academically. Full-color photos, planning blueprints and historical documents accompany the text, which show not only the buildings themselves but also the possible influence they may have had on students and teachers who have spent some of their best years there.
A special gift was also presented to Zhejiang University during the book launch. When the War of Resistance against Japanese Aggression broke out in 1937, the whole university had to be relocated to West China. Yizhou city in South China's Guangxi Zhuang autonomous region was one of the school's temporary homes. Zhou Fei, current secretary of the western city's municipal Party committee, donated a landscape picture of Yizhou to the university as a birthday gift.
The 12 new books are now available in major bookshops and online bookstores all over China.
Several copies have also been donated to Zhejiang Library and Zhejiang Archives.