Far beyond printed words
Time: 2018-07-10
Author : Superadministrator
From :Zhejiang University Press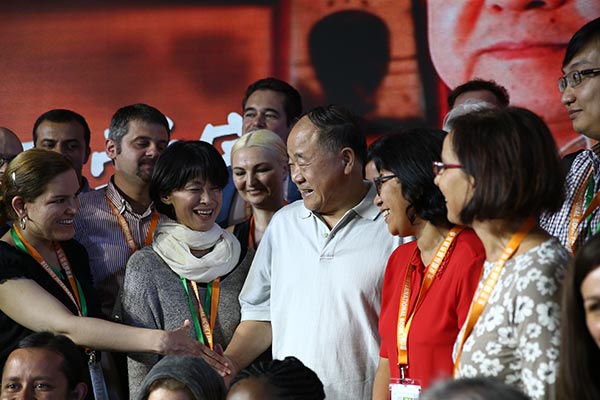 Chinese Nobel laureate Mo Yan meets some sinologists at the book fair. [Photo by Zou Hong/China Daily]
Publishers at the 24th Beijing International Book Fair say cooperation and integration are the two words which describe the event that wrapped up on Aug 27.
At the event, 5,262 deals were struck, an increase of 4.9 percent compared with the figures in 2016.
The deals covered 3,244 Chinese titles that were sold or will be co-published overseas, says the fair's organizer.
The ratio of titles sold compared with titles bought was 1.6:1, meaning that China is now selling rights to more titles than it is buying.
The organizer also says that the rights relate to books on China's development, children's books, literature, education, economics and philosophy.
Besides Western markets, the countries involved in the Belt and Road Initiative are also showing a greater interest in Chinese titles.
More than 300,000 visitors attended the fair.
Fan Jun from the Chinese Academy of Press and Publication, says more than 500,000 books were published in China in 2016. And the rights to 9,811 Chinese titles were sold overseas that year.
Chinese publishers have more influence globally now, says Fan.
At the fair, 500 books in multiple languages were exhibited at a special booth. The books included those by President Xi Jinping and some from the China Book International program besides titles on advanced technology.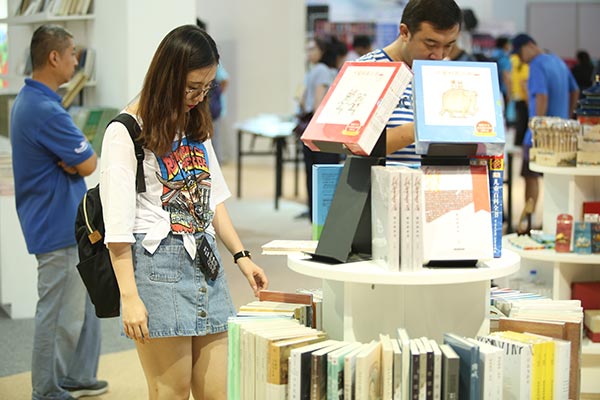 Visitors attend the 24th Beijing International Book Fair, which attracted 1,460 exhibitors from overseas and showcased more than 300,000 books from 89 countries at the event held over Aug 23-27. [Photo by Zou Hong/China Daily]
New ways

Fan says Chinese publishers are not content with just selling rights, and they are exploring other ways to engage with the international market.
On the first day of the fair, New World Press and Cengage Learning agreed to set up an editorial office in the United States to plan and publish books on China-a new way of working together and promoting Chinese books abroad, says Zhang Hai'ou from New World Press.
A similar office was set up in India in October and we feel it's effective, says Zhang, adding that between five and eight titles will be planned, produced, promoted from the US office.
Alexander Broich, president of Cengage Learning (International), says: In the last 30 years, China has achieved a lot in the economy, culture, technology and education spheres. China has changed, and China has changed the world.
The world needs to learn more about China, and China's success and changes.
In another development, Renmin University Press launched its Belt and Road Academic Publishing Alliance with 92 publishers and academic organizations from 29 countries and regions.
We feel a lack of resources and translators in China, and sometimes powerless in overseas markets, so the alliance offers new opportunities to publishers, says Li Yanhui, editor-in-chief of Beijing Normal University Press.
Adam Marszalek, a Polish publisher, says his press publishes 40 Chinese titles a year and the numbers are increasing.
He adds that his readers want books on more aspects of the country and that the alliance opens up more avenues.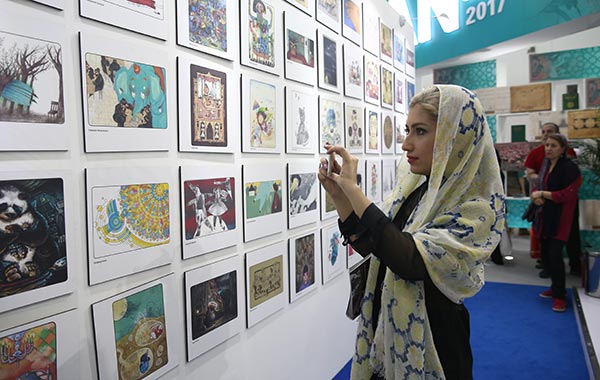 A participant at the exhibition, The Colorful Dream on Silk Road, held by the guest country of Iran during the fair. [Photo by Zou Hong/China Daily]
Cooperation and exchanges
Forums on various themes saw closer exchanges among publishing professionals.
For instance, there were forums on children's books and on digital publishing.
Princeton University Press, the publisher for the late Albert Einstein, co-organized a forum with Zhejiang University Press on academic publishing.
Al Bertrand, editor-in-chief and associate publishing director of Princeton, says that it will open an office in the country as China is strategically important over the long term, editorially and as a market for our books, and we want to engage more with Chinese scholars.
Lu Dongming, president of Zhejiang University Press, says the press is known for its works on cross-disciplinary science and on pressing issues facing the global community.
Literature and children's books were in the spotlight as usual. China printed more than 100 million copies of children's books in 2016, Fan says.
At the fair, Cao Wenxuan, winner of the Hans Christian Andersen Award in 2016, shared his experience of creating Chinese picture books, and Xu Zechen released a new book on a fairytale about men and animals jointly protecting paradise.
In other developments, established writers like Tie Ning, Mo Yan and Jia Pingwa met their readers, publishers and translators at the fair.
Also, A Yi, the policeman-turned writer, who has sold 15 of his works to publishers to be produced in seven languages, met with some of his foreign translators and publishers.
And, the fair's reading-promotion ambassador, Liu Zhenyun, says: I write about those who are often neglected. And I'm glad to find that their voices are heard by the world through the foreign versions of my books.
Publishing professionals from around the world meet at the fair. [Photo by Zou Hong/China Daily]
Integration
Foodies and tech fans also found the fair worthwhile as publishers sought more integration with other industries.
Master chefs cooked at the fair, and virtual reality and other advanced interactive technologies were showcased in a specially-built hall.
Another highlight was creative cultural products.
The fair first brought in such content in 2016. And now, companies and 40 museums, including the Palace Museum, were at the fair with their wares.
Commenting on the offerings, a visitor says: I thought I was attending a book fair, but it felt like I was at a world expo.